The news keeps rolling out from SXSW 2023 with the Transformers Rise Of The Beasts Statue World Tour officially announced! The producer and cast from the film were on hand today to support the new movie in theaters June 9. Check out a whole gallery of official images as well as the posters and details on the World tour that will host the giant robots in various cities as listed below.
TRANSFORMERS: RISE OF THE BEASTS OPTIMUS PRIME & OPTIMUS PRIMAL STATUE REVEAL WITH MIRAGE, A LEGENDARY PORSCHE 911 CARRERA RS 3.8
STARS ANTHONY RAMOS, DOMINIQUE FISHBACK, TOBE NWIGWE PRODUCER LORENZO DI BONAVENTURA AND DIRECTOR STEVEN CAPLE JR. KICK OFF THE STATUE WORLD TOUR AT THE PORSCHE HOUSE AT SXSW IN AUSTIN, TX
ADDITIONAL STATUE APPEARANCES TO COME
AT MULTIPLE CITIES IN THE UNITED STATES INCLUDING LAS VEGAS, CHICAGO, AND NEW YORK CITY
AND INTERNATIONALLY IN SAO PAULO, SINGAPORE, SYDNEY, MADRID, BERLIN, LONDON, MEXICO CITY, AND TOKYO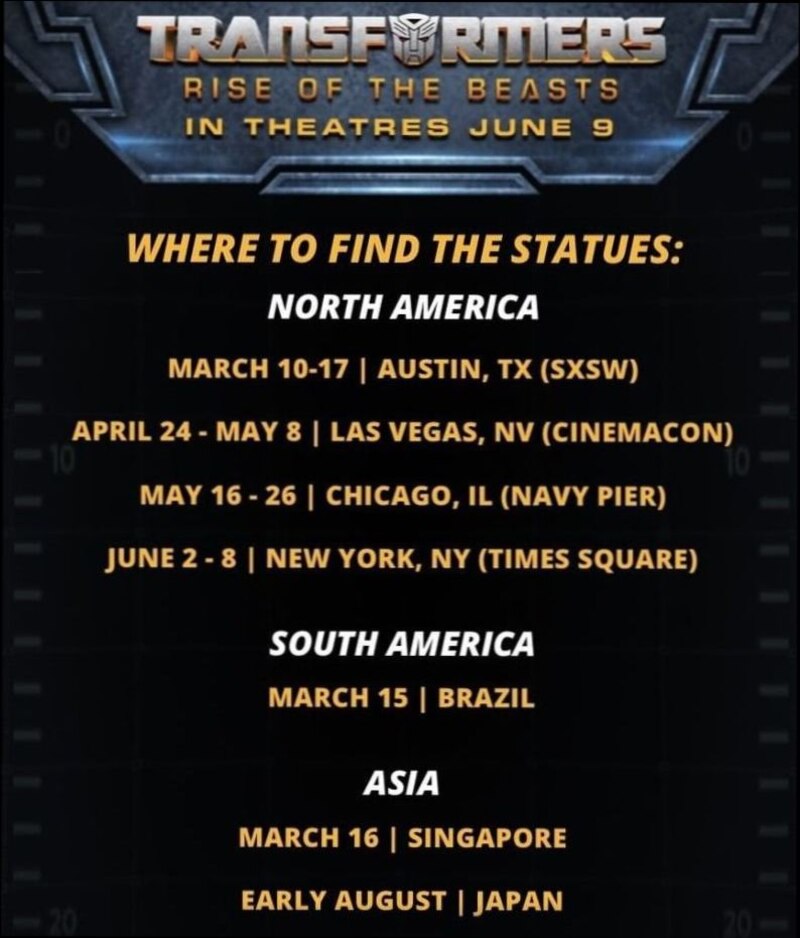 WHERE TO FIND THE STATUES:
NORTH AMERICA
MARCH 10-17 - AUSTIN, TX (SXSW)
APRIL 24 - MAY 8 - LAS VEGAS, NV (CINEMACON)
MAY 16 - 26 - CHICAGO, IL (NAVY PIER)
JUNE 2 - 8 - NEW YORK, NY (TIMES SQUARE)
SOUTH AMERICA
MARCH 15 - BRAZIL
ASIA
MARCH 16 - SINGAPORE
EARLY AUGUST - JAPAN
More Dates To Be Announced.

At SXSW? Find the Transformers: Rise of the Beasts statues at the Porsche House, and explore the companion AR app to unlock exclusive content - http://ar.transformersmovie.com/

TRANSFORMERS: RISE OF THE BEASTS IS IN THEATRES JUNE 9, 2023
SYNOPSIS:
Returning to the action and spectacle that have captured moviegoers around the world, Transformers: Rise of the Beasts will take audiences on a '90s globetrotting adventure with the Autobots and introduce a whole new faction of Transformer – the Maximals – to the existing battle on earth between Autobots and Decepticons. Directed by Steven Caple Jr. and starring Anthony Ramos and Dominique Fishback, the film arrives in theatres June 9, 2023.
Paramount Pictures and Skydance Present
In Association with Hasbro and New Republic Pictures
A Don Murphy/Tom DeSanto Production
A di Bonaventura Pictures Production
A Bay Films Production
DIRECTED BY
Steven Caple Jr.
SCREENPLAY BY
Joby Harold and Darnell Metayer & Josh Peters and Erich Hoeber & Jon Hoeber
STORY BY
Joby Harold
BASED ON
Hasbro's Transformers™ Action Figures
PRODUCED BY
Lorenzo di Bonaventura, Tom DeSanto & Don Murphy, Michael Bay, Mark Vahradian, Duncan Henderson
EXECUTIVE PRODUCERS
Steven Spielberg, Brian Goldner, David Ellison, Dana Goldberg, Don Granger, Brian Oliver, Bradley J. Fischer, Valerii An
CAST
Anthony Ramos, Dominique Fishback, Tobe Nwigwe, Peter Cullen, Ron Perlman, Peter Dinklage, Michelle Yeoh, Liza Koshy, John DiMaggio, David Sobolov, Michaela Jaé Rodriguez, Pete Davidson, Cristo Fernández
CREDITS NOT YET FINAL