So yesterday, ExVee suggested that we may get an entire preview wave based on the Premier Edition packaging also being used for Deluxe Barricade. But I have a different theory, and I believe - based on a combination of what we know from various toy listings and good old-fashioned pedantry about the English language - that I can back it up. Keep reading for some toy detective work!
The hypothesis is this: The Premier Edition Is The New Branding For Transformers: The Last Knight's Adult Collector Line, akin to the Star Wars Black Series or Marvel Legends.
Exhibit A is the packaging style used for Deluxe Barricade. Very squared off and Black/Legends-like, yes? And confusing Generations packaging for the rest of the line was a fairly substantial problem during Transformers: Age of Extinction, and one that I imagine Hasbro would want to address this time.
But it's not just trade dress that's getting me here.
Exhibit B is the news that Voyager-class figures will now be $30, at least at Target. We'd speculated on Radio Free Cybertron that this was to put a more substantial difference between $17 Deluxes and Voyagers, which are currently $25... but if the entire line does a price shift, that would put Deluxes at an SRP of $20 - exactly what Legends and Black Series 6" figures typically cost.
UPDATE: Thanks to @RhiaxusPrime of Twitter for reminding me that ToysRUs listings had indeed been leaked putting Voyagers at $20. This isn't conclusive, given that TRU will happily sell adult collectors $10 worth of anything for $20, but it does make things more likely - especially since their listing for Movie Masterpiece Bumblebee does align with SRP.
Lastly, as Exhibit C, we have TFW2005's post on the pricepoints and placeholder names we've talked about before. While both their story and ours refer to the line as "Generations" - because that would be the obvious conclusion we'd all make seeing those pricepoints.
However, take a look at this screengrab of the listing for a Wave 3 figure, "Gravity," on Amazon Canada: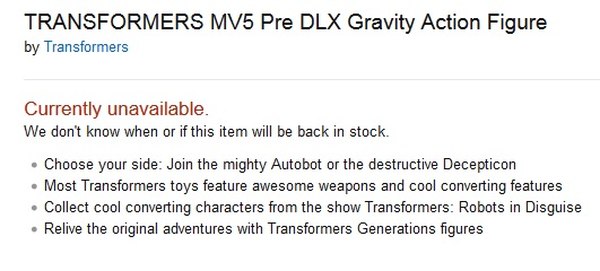 I think this is all pretty conclusive at this point!
However just to supplement the idea, let me point out one last thing: the word on the packaging is Premier, not Premiere. From the Grammarist website:
Premiere, with an e at the end, refers to the first public performance or showing of something, such as a movie or play. It can be a noun or a verb—for example, a movie premieres at its premiere. Premier, without the e, is (1) an adjective meaning first in status, and (2) a noun denoting a prime minister.
Both words have origins in the French adjective premier, meaning first in a sequence or first in quality. Premier came to English much earlier, however. Examples of its use can be found from as long ago as the 15th century. Premiere actually comes from the feminine of the adjective, première, and is short for première représentation, meaning first presentation. That phrase had already been shortened to just première in French when the word jumped over to English in the late 19th century.
Some publications retain the grave accent over the second e in premiere, but English is never kind to these marks, and the word is much more commonly used without the accent.
So Premier is more less equivalent in this usage to "Premium," except without the connotation that word can have of paying more.
So, what do you think?