In our second video covering the Tiny Turbo Changers, I talked about letter codes that appear on the blind bags, indicating what toy is inside. The packages are designed with a small window that lets you see a "preview" of the toy, which is a fair start to figuring out what you're buying, if you know what the contents of the wave look like already. But the specific codes make things so much easier. We've got the list for wave 1, and photos to show you where you need to be looking to identify your Tiny Turbo Changers. Keep reading for the details!
Thanks to Xellos on Allspark for compiling the list of codes for this wave. In order, they are:
A - Grimlock
B - Grimlock (Black)
C - Lockdown
D - Hound
E - Bumblebee
F - Crosshairs
G - Blackout
H - Soundwave
I - Optimus Prime
J - Starscream
K - Sideswipe
L - Bumblebee (Black)
Note that Optimus Prime, according to some sources, may be an exclamation mark "!". But regardless, you can identify it by finding the bag with a simple straight line where the code letter should be. And where should the code letter be? Here's a shot of the back of a blindbag.

If you can't quite make out what you're supposed to be looking for, that's okay. It's not easy to see until you know exactly what to look for. Our landmark, the point of reference for this is the "preview window". The transparent rectangle is right next to the stamped codes on the bags. You'll be looking for a single letter to the left of that window. Here's an annotated version of that photo to help illustrate more clearly.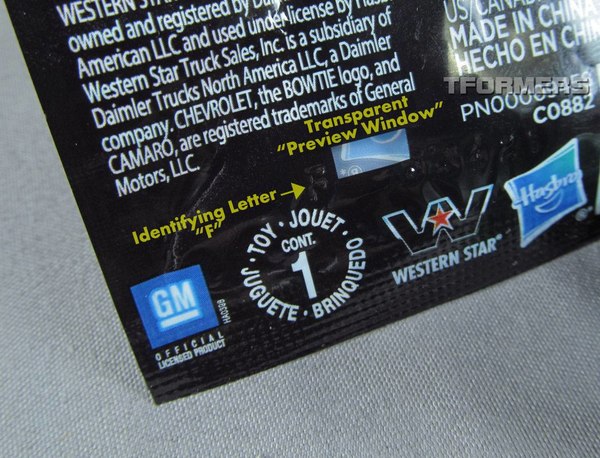 You can see that this is a bag marked "F", which means it contained Crosshairs. Hasbro stated originally that these toys would not have codes on them, so it's possible subsequent shipments may lack them; we just don't know right now. For the moment you should be able to take this information though and be much more sure to get exactly the figure you want. Cause really, having a couple of these in hand, I can say it's definitely worth grabbing one or two for a fun novelty.
Click here for my review of Lockdown and Crosshairs
if you missed the original posting!