You'd think this would've happened earlier, but Hasbro and its subsidiary,
Magic: The Gathering
publishers Wizards of the Coast, have finally created a Transformers Trading Card Game! They were nice enough as to provide us with a sample, so RAC has taken a look at it and has some thoughts about the game as he sees it. Keep reading for an unboxing video followed by detailed impressions!
(I feel like I probably ought to add as a disclaimer that the last time I actually played a trading card game was
Yu Gi Oh Duel Monsters
at some point before
Yu Gi Oh GX
was a thing. So assume that I'm a little rusty with such things!)
The game takes the form of a battle - what else would a Transformers game be? - with the object of the game being to knock out all of your opponent's characters. In the basic game, this is accomplished solely by making attacks and drawing cards for bonuses to the attack and defense of each character. (Blue squares mean a bonus if drawn by the defender, orange give bonuses when drawn by the attacker.) The Advanced game adds special effects into the mix along with the ability to play Action cards and attach Upgrades to your Transformers. Even the Advanced version isn't difficult to follow along with, but it seems like they're making a special effort here to attract younger players who are new to the world of collectible card games. For example, a bonus that a gamer might expect to be described as "cumulative," or "stacking," is listed as being bonuses that "add together." That said, there's often a sense of being too simple that introductory-level TCGs often have that I don't feel here. The advanced game will likely result in some satisfyingly strategic gameplay even for older gamers.
The presentation here is excellent. Character cards are twice the side of the standard-sized Battle Cards, and have a foil face. And of course since we're talking about Transformers, the character cards are double-sided! The reverse side has the character's alternate mode and the card is flipped during the game to represent transforming. The art is really quite good, seemingly drawing from a few different sources going by the fact that Ironhide has his
War For Cybertron
video game body and his
Universe
2008 alternate mode. The Battle Cards frequently have art from the IDW comics - you'll see more than a few pieces of art you'll recognize from
Robots In Disguise, Optimus Prime, More Than Meets The Eye, Lost Light,
and
Till All Are One.
Sadly, the artists aren't credited, which strikes me as a real oversight.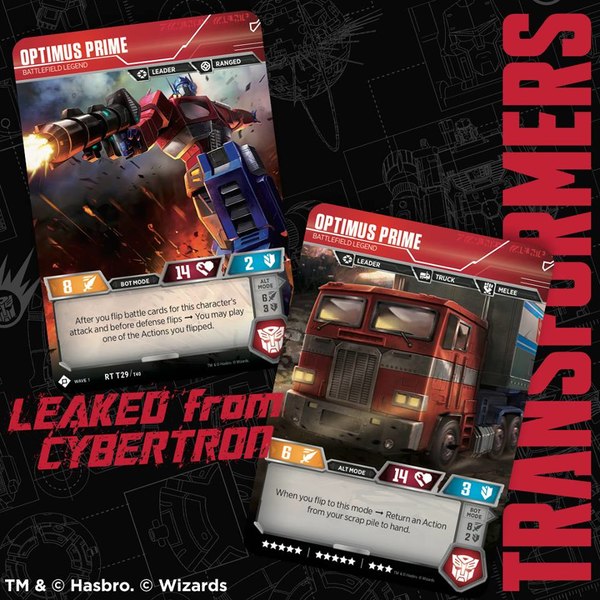 This is the version of Optimus Prime available in boosters, which is stronger than the one in the starter. There's also a booster version of at least Bumblebee as well.
Currently there's one Starter set with four Autobots: Optimus Prime, Red Alert, Ironhide, and Bumblebee. Want Decepticons? Best look at some Boosters! Each booster pack comes with one character from a pool of 40, and 7 Battle Cards from a pool of 81. The Battle Cards do repeat from the starter, which makes sense since multiples are allowed, but alternate versions of the Starter characters with different stats appear in the boosters. The character cards have a cost in the advanced game, with a star rating that makes up part of a maximum 25 cost. While the starter deck characters are balanced exactly to make up that cost (three sixes, and Prime is a 7), the two cards I got in boosters cost 11 and 12, so it seems like booster characters will likely be significantly more powerful.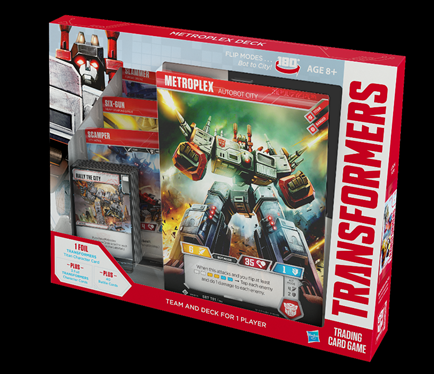 The Metroplex Deck, which will give us two sets that are both Autobot-themed, is due out in November.
My complaints are all minor, and are things that will likely be addressed if the game succeeds and keeps adding cards and theme/starter decks. Currently, the only starter set is Autobot-themed. There's another theme deck coming, one with an even bigger card to represent Metroplex and standard character cards of his helper robots, but no Decepticon deck yet. Also, the packaging for the Starter Set is nice and all but the outer box isn't really resealable, and the clamshell inside takes up a lot more space than the cards. And the oversized card gimmick could be a problem if all your CCG-storage gear is geared towards... well, normal CCG cards. I get the feeling that the 2-up character cards could present players with storage issues, and that's not even counting Metroplex! And lastly, a small thing: only the Basic Rules are contained in the box. The Advanced rules aren't that complex, but have to be obtained from
the official website.
Instructions on where to find them are given in the package, on the double-sided card that has the Basic Rules, but that just bothers me. If you didn't want a sheet of paper in the package design, it probably would've fit on no more than 2 double-sided cards, and the package feels a bit incomplete without full instructions included.
Overall though, it seems like a game that will be simple to learn but still allow for a lot of varied play. A lot of care has been put into the game and its presentation. This doesn't strike me as a cash-in game of the type that used to happen alongside big movies and the like in the late `90s and early 2000s, but one that Hasbro and Wizards hope to support in the long term. But it'll be up to collectors and especially players to see whether or not that happens: currently there seem to be "recommendations" for league play but no formal, organized push to sponsor or support that initiative, leaving it up to individual shop owners. If this is a game you like, you may want to grab an extra starter set to drop on a friend if you want it to stick around.