This article contains SPOILERS for Lost Light #25. Do not read beyond the preview page if you don't want to know!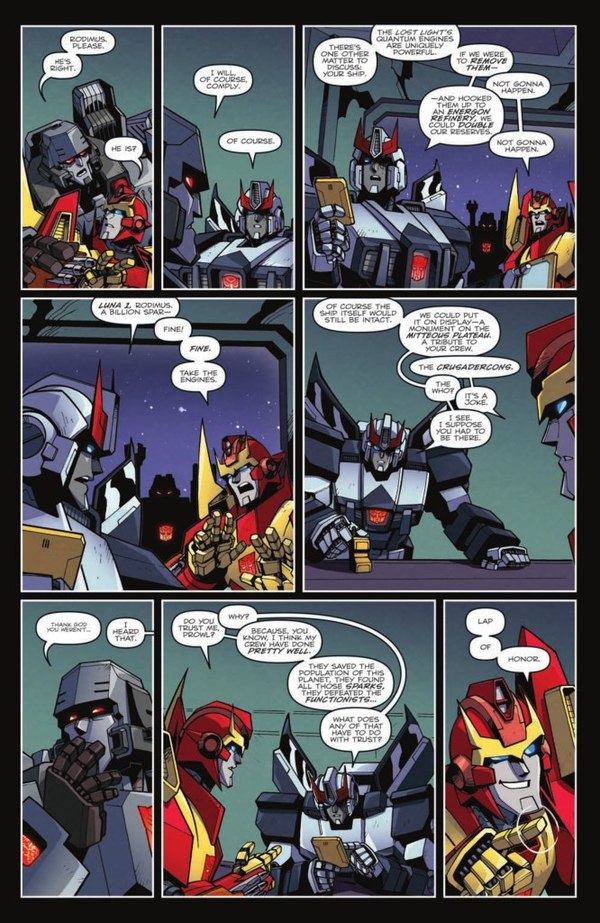 First off, I feel like I owe James Roberts an apology.
After
my last review of Lost Light
Roberts reached out to me, wanting to talk more directly about my review and my feelings about the issue. I told him I needed some time to think about it and to get clarity before I did anything like that - and immediately cut off contact with him entirely. This was not done out of a sense of malice or anger but out of a desire to create space and distance for myself, because I'll be honest: I don't handle myself as well as I'd like on my personal social media just to begin with. And frankly, the idea of discussing my negative impressions of a comic directly with its creator actually
scared
me. It felt kind of like being called to the principal's office. Again, I know no harm was meant by his reaching out, and I very much appreciate the gesture and the generous offer of his time to someone who had just written what I wrote there. And if my review did Roberts or
Lost Light
any harm in any way, I absolutely apologize. As I said when I stopped reviewing it, I did so out of respect for Roberts and his co-creators and what they've accomplished; my negative feelings on the work were made clear, and if future issues weren't going to change that, it was more important to stop harping on the same things. These were things that worked for the majority of readers and just didn't work for me anymore, and there was no sense in hanging around being negative. I believe that it's important to be able to let things go - which, seeing as how I ultimately read the comic to its completion, I am obviously not good at - or in absence of that, to contain one's negativity when it cannot be applied constructively.
Looking back on that review and that issue I'm embarrassed by some of what I wrote. In hindsight the complaints I had about the crew's reaction to Megatron's departure were exactly what I wrote off - a return to the comfortable norms of their lives after the traumatic loss of a friend. I dismissed the point, looking around it for something that satisfied me, and naturally found nothing. And of course, it's Megatron after all. We were less than a year out at that point from Ravage's speech about Megatron not knowing what he wants to do until he does it, and preparing for every eventuality, a speech that fits pretty neatly with the crew's idea that he would just up and leave them at the nearest opportunity. It makes sense, and it makes emotional sense, and I guess because I so very much loved Megatron's portrayal I rejected it out of a wish to see it all work out for all involved.
And in the end I suppose it did, but I had no way of knowing that when the end was one and a half years out when I wrote that, and the other aspects of the story I took exception to had - again, entirely subjectively and on my part - damaged my ability to trust Roberts to bring it all together for a satisfying conclusion.
I've come around on Anode and Lug since then as well - in playing catchup, I wound up liking them both a great deal more. Anode's prank on Swerve in
Sardines
was a great sequence in particular. Also, with what's been revealed since - that Anode and Lug were the first transgender couple in a Transformers comic - I've become very glad that Lug's was
not
the death that stuck. After so many others had cheated death, that wouldn't be right at all. The kind of representation that IDW has pioneered in
Transformers
is a tremendous positive, it has meant so much to so many people, and frankly focusing my frustration on Lug due to something that just boils down to something this story
does
was unfair of me. The fault is mine, entirely.
That aspect aside, what I
will
stand by is my feeling that reversed deaths - whether perceived deaths reversed narratively or explictly within the universe - were still an Achilles heel for my longterm enjoyment of
More Than Meets The Eye/Lost Light
. Cyclonus and Tailgate in particular were put through the wringer yet more in a way that I found frustrating - though I was very pleased to see them get probably one of the happier endings in the book. After all that, they deserved it. And it wouldn't have bothered me if I wasn't
rooting
for them. These characters are endearing and enjoyable, and quantum-superstate tragedy wasn't
necessary
to get me to feel for them. Break a heart enough and calluses form. That sentiment is one that's just going to remain; it's a feeling I have about the work, and a strong one.
After all that, and a little time and space on my part, the final arc was still entirely satisfying to me, and Rodimus' speech to his crew will stick with me for a long time. The last issue, out last week, was an epilogue and something very special indeed. Special enough that I'm going back on my word to see the series off.
Like so many times before,
Lost Light
#25 too has it both ways - but in the best possible way you could manage it, and for a good reason and to a great end.
I feel like it's a disservice to this story to point out the ramifications this issue might imply for a post-
Unicron
IDW universe. It doesn't matter. Put it out of your mind. Thinking about spoilers and continuity in this way, especially at this late date, isn't any good for you. What matters is that we see what happens to the crew after the quest. And some of it's sad to see. Life goes on until it doesn't, and consequences happen, and you can't stay in the place you were most comfortable, where your life felt the most right forever. And taken on their own such epilogues have always left a bitter taste for me as a reader.
Too real, man.
Focusing on the after-times, the mortality and diminishing of your favorite characters, is something that helps make a story complete, but the sense of loss as a reader from something like that is real. But: that's life. It involves loss; it changes and it ends, sometimes easily and peacefully, sometimes well. And sometimes not, and frequently undeservedly. A story that acknowledges sadness and hardship while also denying that it's all of life, or even the most important part of it, deserves an ending that reflects that.
But, outside of what is appropriate to the story, what do we
want
out of it?
After we see both the immediate and longterm aftermath of the story, for one last time Roberts does a very Roberts thing. Nautica and Perceptor (basing their work on Brainstorm's briefcase experiments) arrange a way to duplicate the ship and crew in a new, unexplored universe. In-universe, they never know for sure if it works, having to one day close out their lives in the faint hope that in some alternate universe their best selves were in the best possible place, still out there having the time of their lives.
But as readers, we're left with no such doubts. Thus we say goodbye to the crew of the
Lost Light
and leave them both on the concrete terms dictated by their lives and in a place of infinite potential as characters. What happens to them in the great unknown of their new home is up to us.
The best stories are excited to see what we do with them. One of my favorite sci-fi film series ends with a slide that simply reads "And now... in anticipation of your insight into the future." I always liked that touch, but as I go along I find it more significant now than ever. What do we do with the ideas and feelings we've been given by fiction? Where do we take those and how do they affect us, whether we ever create something with them for others or just daydream?
Much of fandom is made up of unspecified clamoring for "more" that I think even the people demanding it don't always fully understand. One sequel will be an entirely suitable "more" for some people and for some it will be insufficient, or wrong, or even a betrayal of the original work. Or at least of their relationship with that work, even though the original text has generally not been changed in any way. (Rewrites and Special Editions are a slightly different topic for some distant other day.)
But understanding that there's a relationship there, one that's entirely unique to you, is important. Sometimes I think the "more" we ask for is not "more of these characters," or "the next part of this story," but more a question of "I want to be able feel more of what I felt the first time I encountered this story." Which is tragically impossible. That moment is not just a moment in a story but a moment in the reader's life, and that moment cannot ever be fully recreated. I've watched
Ghostbusters
- and more appropriately,
Transformers: The Movie
- so many times that the words themselves lose meaning and just become familiar sounds, and on some level I regret that. A love that becomes too possessive diminishes the lover and the loved one. You can get new things out of subsequent experiences, but you can absolutely never see
Star Wars
for the first time twice, and even if you could it still wouldn't affect you in exactly the same way.
"What comes next" is not necessarily a question best answered by direct official sequels to an existing story, and as others have pointed out,
Lost Light
features commentary on that. Prowl, practically the embodiment of cold, logical exploitation orders the ship stripped for parts, with the sop to Rodimus of its hollow shell perhaps becoming a meaningless monument elsewhere. And even if we see Nautica, Rung, Velocity, or any of those characters again in the next series, they'll be someone else's vision. They will reflect the relationship(if any) between those characters and
that
writer, not the relationship between those characters and us. It will be starting over with someone who looks like someone you once knew. And if you're open to interpretations of characters and ideas, that can be great!
Transformers Prime
Bulkhead is not
Transformers Animated
Bulkhead. I like them both, but the original was the one I had more affection for. That's just how it goes, and accepting that
Prime
was not
Animated
took me a long time to get over. And frankly Bulkhead is a best-case scenario. Media being what it is, it's not uncommon to encounter some kind of ghoul, a complete stranger wearing the skin of someone you loved. (Perhaps one that collects faces and kills Kelsey Grammer...) It's a very difficult pill to swallow.
But even when that happens, even if you don't get the "more" you want, nobody can ever take your relationship with a story away from you. Not unless you let them.
"What comes next" is best answered by people who enjoyed a story and take those feelings into their lives, carry them forward, and do something with them - be it related to the original characters or not. In his afterword, James Roberts says that the original plan for the last panel - a plan all but unchanged for years - was for the words "The End" to be crossed out and replaced with "Over To You" - a message that can easily be seen from Roberts' interactions with fans to be as much or more for them as it is for the next people to crew a Transformers comic. Those words may have been reduced to a footnote in the end, but as he said the spirit of it is still there.
Stories are gifts that people give to those who would enjoy them, and in the end the only thing you can do with a gift you have given to someone is let go of it, give it up, and let those who received it use it as they see fit. Not all authors realize that, and fewer still acknowledge it and embrace it. But here at the end,
Lost Light
and Roberts own that. Stories end for writers and for characters, but also live in the minds of the people who love them. The story goes on forever if we want it to, however we want it to. And in that context a thing I got tired of over a year ago was transformed in the end into something moving. Having the entire crew cheat the fate of mortal life one last time was the most satisfying thing
Lost Light
could have done in the end. And the most beautiful.