As a person with no conventional artistic skills, one of the ways I like to express myself from time to time is by digitally recoloring photos of toys to be other things - Photoshopping! What-If Wednesday is a new occasional feature where I'll share my "what if?" recolors, either inspired by my own ideas, or sometimes from other source media. Our first What-If Wednesday takes on the Headmaster Bludgeon concept seen in the Magna Convoy comic this week, which we get only a limited view of. How might it look and work as a toy? Keep reading and find out!
eHobby's conceptual Headmaster Bludgeon uses Titans Return Hardhead as the base mold. It swaps in the Titan Master from Breakaway, with added deco to look like a stylized skull mask. It also was shown carrying Windblade's sword - whether from RID or the first Generations toy is largely irrelevant as the two figures' accessories are effectively identical.
For my take on this, I followed suit, though using the official renders of Quake as the starting point - the pose was a lot more conducive to what I wanted to do, while the official images of Hardhead were posed more awkwardly. Quake as a starting point had another benefit that was important: The pose and viewing angle were very similar to the renders of Breakaway, which made transplanting the head from one image to the other not just simply, but very natural looking.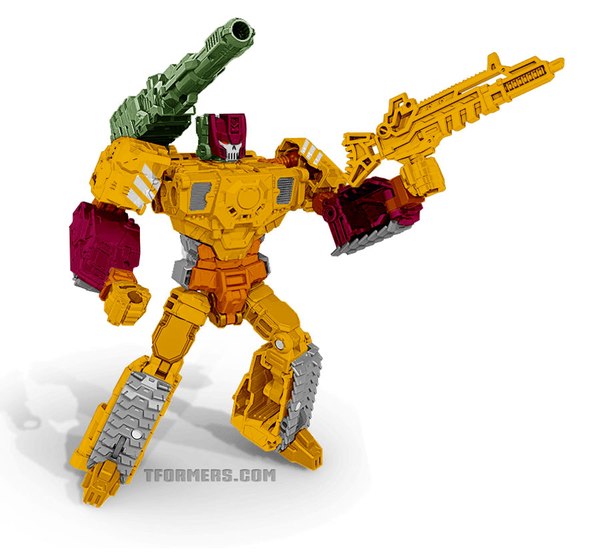 The references available to me from the comic were quite limited, but I followed along as best as I could. The body was clearly to be predominantly the Bludgeon yellow, with notable exception of the forearms becoming a burgundy. As an aside, I think any real execution of this deco will have to rely on a lot of paint if they really want to follow the comic layout closely. So, the colors of the comic did not put much in the way of visible accents or details in the coloring. I think that might partly come down to the limited view rather than a specific design intent. One thing I could identify was that there was to be a light tone in the lower torso, corresponding with the layout of the original Pretender shell somewhat. Along with that, I added grey to the vents to give some additional reference to the first toy's deco and do much needed work in breaking up the huge field of yellow the chest became. A specific detail the comic did include, the shoulder stripes, I made sure to emulate here. Again, it really helps to interrupt those big swaths of yellow. I also invented the presence of the orange on the lower torso, which serves again to map more of the original Bludgeon deco and make some not-yellow space.
The vehicle mode is just the end result of matching the presented robot deco. The comic offers no sign of trying to tie the shoulder and forearm sections together, which would leave them as you see here, oddly divided in color. I think if done for a real toy, I'd want to use some grey over the armor panel detailing on the sides to try to tie these parts together. Other than that, the vehicle mode doesn't look too bad for surely having been an afterthought to the whole process.

Things that I didn't represent include Windblade's sword. I didn't feel it was really necessary, and certainly not to the point of trying to source a compatible-angled image of it to try to fit in. It's a clever idea though, what with the sheath being made to fit in the stress-relief channel of a ball and socket joint. It can be carried in robot mode with no new tooling needed. Not entirely sure how it might store in tank mode, though...
The other idea presented but that I didn't incorporate here was using the tank mini-vehicle Hardhead came with in Japan (originally seen on Titan Masters Terri-Bull and Skytread, of course) and giving it a deco based on Bludgeon's inner robot. That's fine for representing the remaining part of the character the larger figure can't so much, but it becomes a really killer idea when you remember that Pretenders such as Bludgeon used parts from their inner robots as accessories for the shells. Bludgeon's tank turret became a gun, and this Bludgeon would have a little tank that turns in to a gun. It's about the best you can get to remaking the ideas of the original toy without actually having a shell and inner robot.
...but I think the inner robot would still be represented: The Headmaster. Its colors as seen in the comic are based on the inner robot colors, so in one sense the Headmaster can be considered to be a form of the true Bludgeon on a new "pretender" transtector body. And with the mini-tank being designed as a Titan Master vehicle, Bludgeon the Headmaster can still become part of the representation of the inner vehicle mode.
This eHobby Headmaster Bludgeon concept is quite elegant on a range of levels. Dividing the larger body to resemble the more familiar Pretender shell colors of Bludgeon, with Titan Master and accessory mini-vehicle working together to represent the inner robot is inspired all on its own. Plus that allows duplicating a play pattern feature of the original Pretenders that probably doesn't get thought about very often. Making use of another toy's accessory that's able to interact correctly with this one is a nice cherry on top. There's no sign right now whether this redeco would be something that actually gets pursued all the way to production. Part of me really hopes that it does since it's clear a lot of thought went in it. But part of me knows if it did, it'd probably be quite expensive to import, and more than Bat Convoy, this feels like something I'd feel a greater desire for.
Thanks for reading the premiere article of What-If Wednesday, and keep checking back for future installments!