With SDCC 2017 put to bed and some other sources of information having been available to us, it's time to sit down and ask the question: what exactly do we know about Power of the Primes? And the answer is: not everything, but a lot. We've guessed a lot... and there were kind of some leaks that happened Monday too. Keep reading to see what we know and how we know it!
Officially...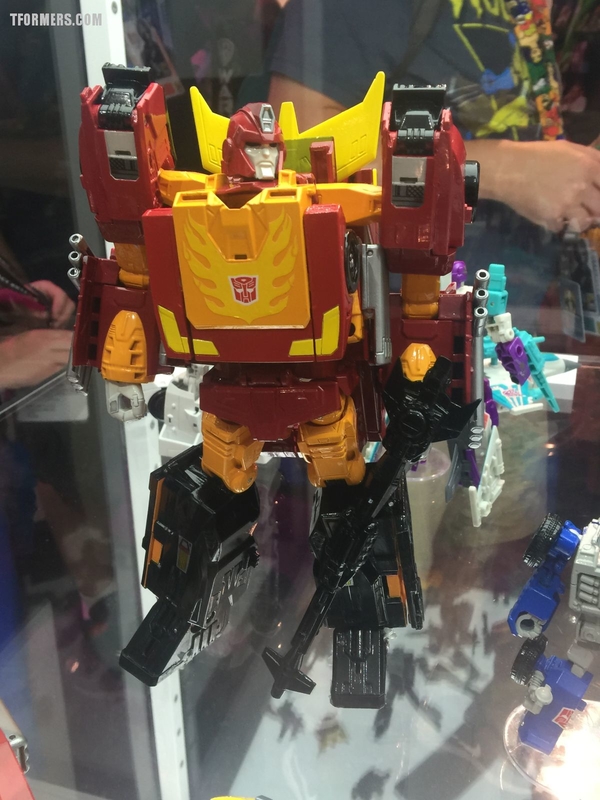 ...we have seen seven
Power of the Primes
figures:
Prime Master Liege Maximo with Skullgrin, Legends Beachcomber, Deluxes Jazz, Blackwing,
and
Dreadwind, Voyager Starscream,
and
Leader Rodimus Prime.
Each class interacts differently within the
PotP
"Toy ecosystem." Prime Masters have "Decoy Suits" - Pretender Shells - which hide the Prime Masters within. Legends seat the Prime Masters. Deluxes have armor plates which mount to the chest in order to mount a Prime Master. Voyagers have what are being described as "Bucklers" to mount them on the arm in some fashion. Leaders each carry a Matrix, the core of which is swappable with a Prime Master. Leaders also feature a "Mortal to Prime" transformation feature, with a Deluxe-ish sized figure becoming part of a larger whole, G1 Powermaster Optimus Prime-style. Leader-class Optimus Primal was announced, but not shown.
We Infer...
...that a whole lot of the features of these figures are being held off for announcement later, most likely at HasCon. The Prime Masters, first and foremost, are clearly built to be Titan Master compatible. So if you want a robot with a weird symbol for a head, you're covered! But it's definitely nice to see that Hasbro is trying to bring both of the previous
Prime Wars
lines forward into compatibility with
Power of the Primes.

And how do we know that? Mainly through good old-fashioned Toy Detective work. Starscream, both in-person and in his promotional CGI images, has
Combiner Wars
ports in his oddly-proportioned limbs. Blackwing and Dreadwind are reuses of
Combiner Wars
molds and thus have the pegs in their chests... but so does Jazz, who is by all evidence a new mold. The "Bucklers' in Starscream's official renders look a lot like Computron's excellent feet.
Asked about this at SDCC by TFW2005, John Warden simply laughed and said "And it begins!" Warden's a smart guy and a fan himself, and he knows we're not going to overlook things like that. But there's still a Con to Has in September, and there's things to be revealed there.
Ideally.

Drip... Drip... Drip...
...that's not actually an accurate representation of the photo leaks that hit Twitter on Monday, because that was more a case of finding yourself up to your ankles in water without any warning. We got the entire first year's worth of
Power of the Primes
spoiled for us via internal slides that were taken from what appears to be a Skype call with a Hasbro employee. Short version: Prime Master Pretenders; Combiners of Dinobots, Terrorcons, and the 1985 female Autobots; the last few Legends Mini-Bots we don't have; Leader Optimus Prime; Titan Predaking.
In the leaks, now since plugged, we got to see a few figures using their Armor and Bucklers, and unsurprisingly they bore no small resemblence to folded-up hands and feet. The documents - presumably prepared for some type of presentation, perhaps to retailers - made no mention of combiners save Predaking. But it did mention that Predaking can simultaneously use the Matrix of Leadership (presumably included with both Optimus Prime and Rodimus Prime) and the Enigma of Combination. A separate slide made mention of Voyagers each coming with their own "unique Enigma," so... put two and two together. Or more accuately, put four and one together.
It's unfortunate we've had a lot of Power of the Primes spoiled for us, but the news is the news and we report the news. It's still going to be a thrill to see these figures at HasCon, and ToyFair, even with the Christmas Morning edge taken off of the reveals. But the specifics of what Power of the Primes is - those announced, those deduced, and those leaked - all point to a very engaging toyline with a lot to offer. It's going to be a long four to six months to wave one...