Back in July after SDCC, we published a quick... well, Primer on the upcoming Generations line Power of the Primes. In the wake of HasCon 2017 we've got some more information, so it's time to go back through and lay it all out, class by class. Keep reading to see!

Prime Masters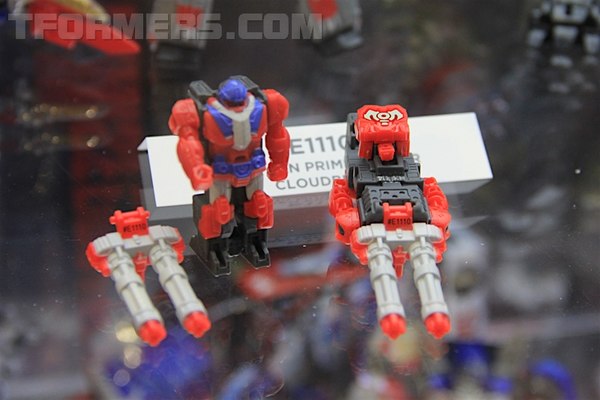 We know exactly what was known before. The Titan Master-esque Prime Masters, who become the Sparks of the Primes, hide in "Decoy Suits" - adorable Mini Pretender shells that double as weapons. The officially announced figures are Liege Maximo with Skullgrin, and Micronus Prime with Cloudburst. Cloudburst turns into a really cool gun, and it looks like the barrel is designed to be detachable as its own hand weapon when in Decoy Suit mode.
Legends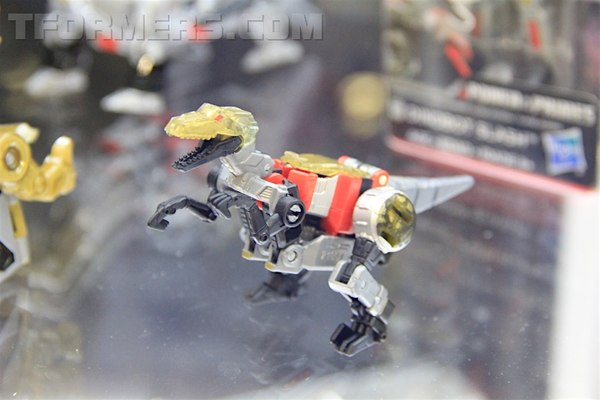 Not much new info here either. Legends seat Prime Masters, and thus also Titan Masters! It's possible that they could become a part of the larger scale Combiners in much the way that Combiner Wars Legends once did, but at the moment it seems unlikely, as a cardback was shown and no mention of that function was given. The two Officially known Legends-class figures are Beachcomber and Dinobot Slash.
Deluxes
Deluxes have been revealed to double as Combiner limbs! Each comes with a dedicated Combiner hand that seems to have an articulated wrist! The hand doubles as a breastplate that mounts a Prime Master or presumably any Prime Master-shaped object such as an Enigma of Combination, Matrix, or Titan Master.
Deluxes are the most-known size class at present, officially speaking. They are: Blackwing(G1 Darkwing), Dreadwind, Jazz, Snarl, Slug, Swoop, Sludge, Terrorcon Rippersnapper, and female Autobot Moonracer. Officially, we only know that the Dinobots can combine, even though Combiner pegs are clearly visible on nearly everything and Rippersnapper was a limb for G1 Abominus. The hand parts, already discussed at SDCC as "armor" along with the non-Dinobot Deluxes, were rendered absent from those figures' cards though the spaces in the blisters were clearly visible. Argh.
Deluxe prices were mentioned in a press release given to some sites, and holds steady at $16.99.
Voyagers
We now know that yes, Voyagers are Torsos! They come with "Bucklers" that also mount Prime Masters. These are feet (with rocker ankles!) for Combiners. The Dinobot Combiner,
Volcanicus,
uses the two extra dedicated hands to fill in space on the torso.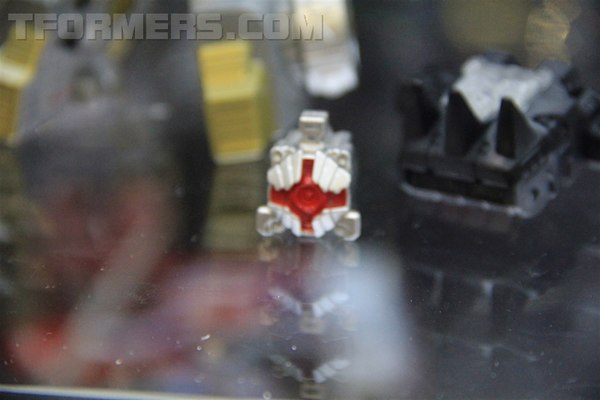 There is a mystery item that has not been formally announced, and both Grimlock and Starscream were spotted with one. They look similar to a Prime Master, but a Prime Master is not named on the package front. With the one carded instance we've seen so far, Skullgrin, Prime Masters continue the Titan Master precedent of being packaged in Robot Mode and called out by name. The leaked product slides referred to a "Unique Enigma" being included with each Voyager, which leads us to believe that the Enigma of Combination that featured into the Combiner Wars storyline was, er, not unique. Attempts to see the back of Starscream's box were thwarted by a piece of paper presumably employed by Hasbro.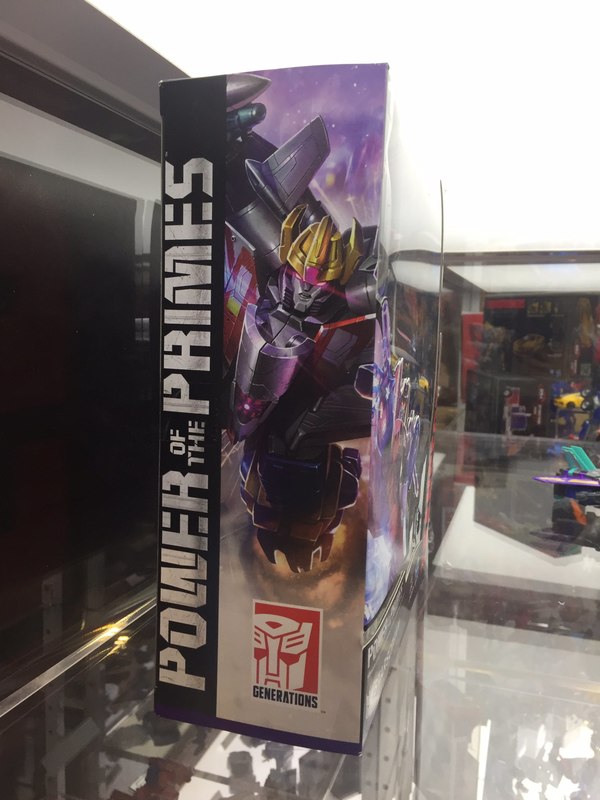 The side panel for Starscream's box (as seen here in a photo by Eric Crownover) did give us a brief glimpse of his combined mode; he seems to have a glowing item hidden in his chest's cockpit hatch. RAC's hypothesis: each Combiner torso will have a central spot to store its Enigma. Given Grimlock's big mouth, and the ability to open it in the combiner mode, that seems a good choice. There's even a spot for a "Titan Master Heel Spur" style of tab!
Three Voyagers have officially been shown: Grimlock, Starscream, and Terrorcon Hun-Gurrr. The SRP released to the press is $29.99, same as Transformers: The Last Knight Voyagers, but given the fact that we're seeing added complexity here with a minimum of 3 accessories per figure (foot bucklers, Enigma), that's a little bit easier to swallow than it was with TF5.
Leaders
Nothing much has changed about what we know about Leaders since SDCC: their gimmick is a "Mortal to Prime" feature somewhere between G1 Powermaster Optimus Prime and Star Saber's gimmicks. In fact, the lead designer on Star Saber designed Optimus Prime! For each figure, a Deluxe-sized figure will integrate with the larger part of a vehicle mode to become a Prime. Each figure also comes with a Matrix which seems to have a Titan Master-esque head plug on it. We're presuming this is a "dummy block" for lack of a better term, a cube which does not become a robot. No mention of a robot form is made on packaging, and there are no arms or legs visible on the Matrices we saw at SDCC or HasCon.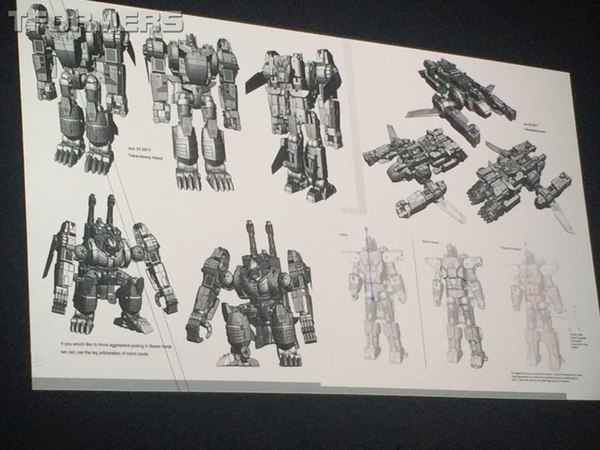 The three known Leaders are Orion Pax to Optimus Prime, which features an extremely Sunbow Orion; Hot Rod to Rodimus Prime, who looks absolutely fantastic, and Optimus Primal to Optimal Optimus, who incorporates elements from all three seasons of Beast Wars, as the central robot turns into a Transmetal-esque jet surfboard instead of a more organic-looking gorilla. The SRP has gone up five dollars to US $49.99.
Even taking the leaks into account, there are still some things we don't know about Power of the Primes. Do Legends interact with Combiners? Do the Enigmas do anything except look fancy? What's Starscream's Combiner name? New York Comic-Con isn't that far down the road, so hopefully once it's come we'll be able to say that the first two waves of Power of the Primes are completely - and officially - explained.