The retailer info leaked very recently for the first post-Trypticon Legends Series releases, and as it happened we got to have a first look at these figures quite a bit sooner than many may have expected. But it's likely that what Hot Rod(imus) and Kup ended up being was probably not quite what most were anticipating. Some of that is for the better, some not so much. But not all of it is entirely obvious either. Keep reading to find out more details for these TakaraTomy toys.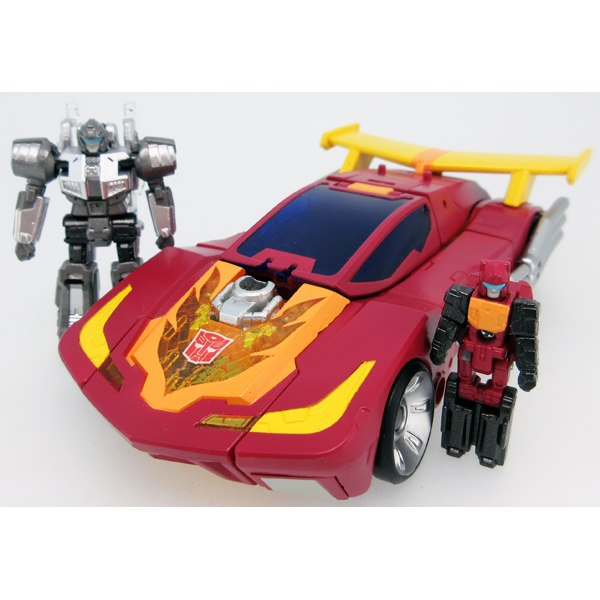 Of course the decos are the clearest change made. Hot Rod is a fairly easy to predict move to magenta instead of red, and giving black (or very dark grey) shins, all in some service to the animation look. The exact qualities of the magenta especially is hard to judge for certain, based on the ...let's say "flexibility" of digital color reproduction. But it's looking pretty good in terms of what they're trying to match to. There's some other issues that go along with this, but we'll look more at that shortly. Because right now, we need to go over Kup. Now Kup is easily not what anyone had in mind when talking about a hypothetical "TakaraTomy Kup". Because based on these promotional photos, Kup has virtually no color. Apart from blatant things like the bluish windshield, the Autobot symbol, and spots of yellow, everything is basically pure grey. I know what you're thinking, Kup is a pale green or teal. Generally in the cartoon that's true. But one thing the old cartoon didn't have was a great deal of consistency, so the particular coloring could vary from time to time.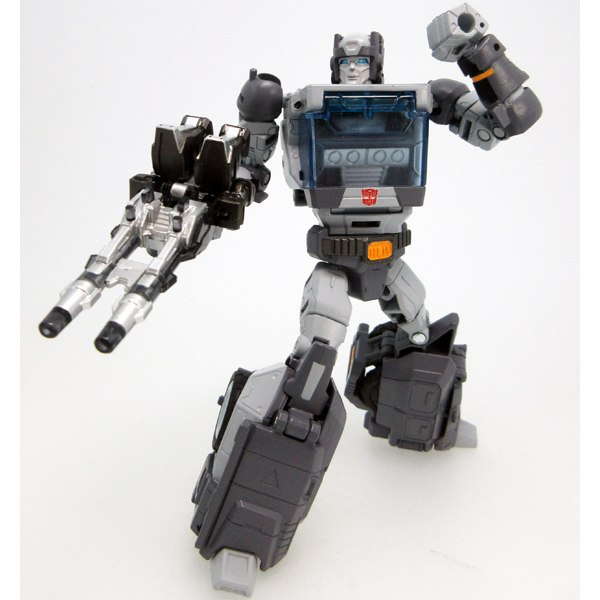 More specifically, it's looking like Kup may be based on the appearance in The Rebirth, where at points he did certainly look quite grey. But maybe not intentionally. Chris McFeely, bottomless reservoir of Transformers knowledge he is, pointed out that The Rebirth as it is available today doesn't have entirely accurate colors, due to being sourced from a broadcast master rather than a production master for its DVD release. Thus leading to a kind of unfortunate situation where Kup is majorly monochrome. In theory, it might be possible for someone at TakaraTomy to take a second look and get the colors tweaked prior to full production and release. But we should not count on that happening. But let's move on to largely more positive aspects now.
First off, both toys have not-insignificant remolding/new parts. On Hot Rod this is a mixed result to many. The chest panel has been replaced, and now no longer includes the flip up section at the bottom; the entire car hood stays flat on the front of the body. This seems to be in part serving the modified chest flames. Which are now a stained glass window. The whole flame area is clear amber plastic with a texture molded probably on the back side. This means that the whole piece is cast in this clear color and all the opaque parts are painted over. Which increases the chances of QC issues leading to ugly problems. This new piece also offers the opportunity to use a flip-around piece to let the car mode have an exposed engine block, but conceal that detail in robot mode. But otherwise Hot Rod does not have any new parts.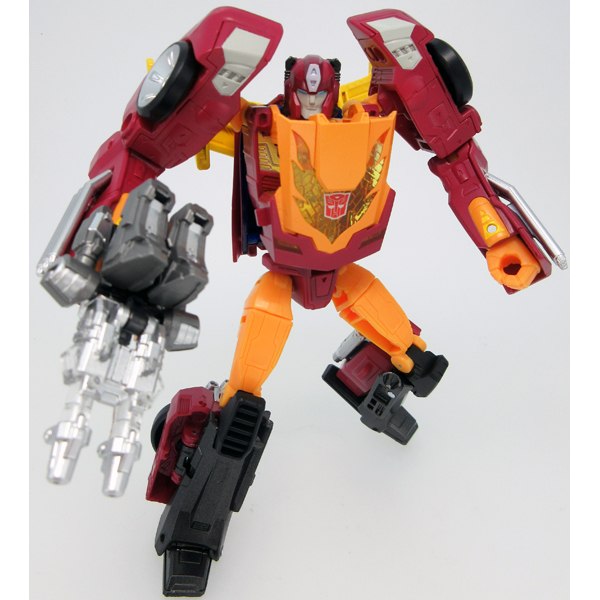 Kup, though, gets a bit more meaningful makeover. Starting with the face, which goes much more for a cartoon based look than the Hasbro release. Though you can't really call this a perfect result either, it ought to be more satisfying to collectors uninterested in toy-based looks. Kup's arms also got replaced, and are now more rounded off, versus the blocky arms in Titans Return. This is a double-edge sword, as they might look better in some respects in the robot mode, but integrate more poorly with the vehicle mode since they can't align and rest flush with the edges of the truck.
The biggest deal for these figures is the payoff to their Targetmaster designations, because they get actual Targetmaster partner figures! While I had speculated we might see reuses of existing accessory figures for this purpose, it looks like TakaraTomy went the extra mile and created fully new Targetmaster figures for Hot Rod and Kup. That may not be the happiest news for owners of Blurr and Scourge who still lack their own Targetmaster partners, but I think TakaraTomy wouldn't be TakaraTomy if they didn't end up using these new molds as event or campaign items modified to match the other characters who are supposed to be Targetmasters in the western fiction. Hot Rod, Kup, Blurr, Scourge, and Cyclonus were never Targetmasters in Japanese G1. These figures are reasonably articulated: Lacking elbows, but appearing to have ball jointed hips and at least knee hinges. Transformation joints that allow the arms to fold over the bodies would add to the range of meaningful poseability too, in addition to of course being able to turn in to weapons.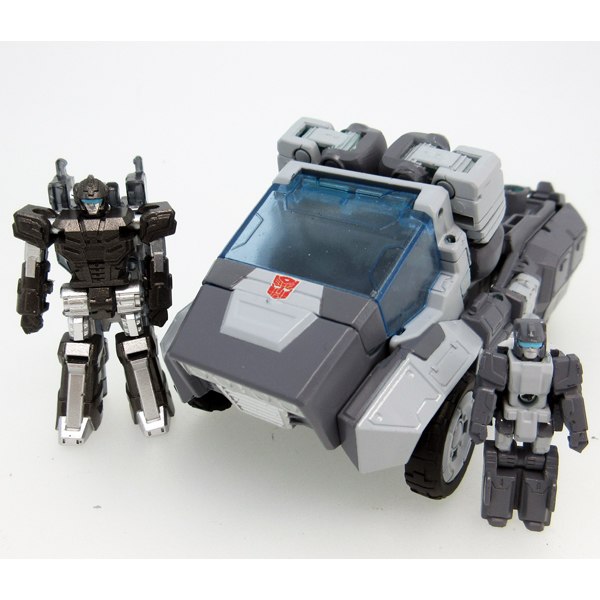 The creation of these could likely be indicative of further things to come in Legends. Most of the remaining Decepticon characters we know there's tooling for are Targetmaster characters, so having partner figure tooling made suggests at least some of those are probably on the way. It also shows that we're probably past the point of regularly seeing Titan Master vehicles used as pack-in extras. This works out in one sense since TakaraTomy has already almost gone through all of the unique molds available - and in a couple cases already had to double dip. The Targetmasters take over the general pricepoint that the Deluxes with vehicles previously occupied.
And that's pretty much the rundown. It's not a far leap to expect to hear more new solicitations as soon as next month that will show where Legends is headed next - and maybe see how quickly they want to spread out these Targetmaster buddies too. And we'll be here to keep you up to date on all of it! You can pre-order these now at BigBadToyStore.com.