SAN DIEGO, CA (March 21, 2019) — Next week, IDW Publishing will be headed to Anaheim for WonderCon, and we're bringing a sensational assemblage of creative talent for booth signings and panel discussions! Feast your eyes on our creative roster, including such fan-favorites as the world-famous Joe Hill (of Locke & Key fame, naturally), New York Times bestseller Delilah S. Dawson, rising superstar Vita Ayala, the entire writer's room of Star Trek: Year Five, and so many more!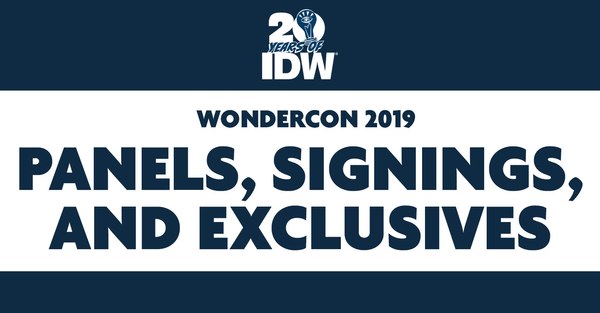 And don't forget, we'll be bringing special variant editions of your favorite comic books – from G.I. Joe to Teenage Mutant Ninja Turtles, from GLOW to the Rick and Morty vs. Dungeons & Dragons hardcover, IDW's got the goods to feed your fandom!
Check out our complete list of booth guests, panels, and convention exclusives below!
IDW SIGNING SCHEDULE
Friday March 29th

3:00 ­– 4:00 My Little Pony – Tony Fleecs, Sara Richard
4:00 ­– 5:00 Dungeons & Dragons ­– Tess Fowler, B. Dave Walters
4:00 – 5:00 Magic: The Gathering – Vita Ayala
5:00 – 6:00 Transformers ­– John Barber, Mairghread Scott, E.J. Su, Livio Ramondelli
(*Convention exclusive available!)
6:00 – 7:00 Star Trek: Year Five – Brandon Easton, Jim McCann, Jackson Lanzing, Collin Kelly, Jody Houser

Saturday March 30th

12:00 – 1:00 TOP SECRET GUEST
1:00 – 2:00 Locke & Key – Joe Hill
(*Ticketed signing, see employee for details)
2:00 – 3:00 Transformers ­– John Barber, E.J. Su
(*Convention exclusive available!)
3:00 – 4:00 Star Trek – David Tipton, Scott Tipton, J.K. Woodward
4:00 – 5:00 TOP SECRET GUEST
5:00 – 6:00 Dungeons & Dragons ­– Tess Fowler, B. Dave Walters
6:00 – 7:00 Star Wars Adventures – Delilah S. Dawson

Sunday March 31st

11:00 – 12:00 Sonic The Hedgehog – Tyson Hesse
12:00 – 1:00 Star Wars Adventures – Chris "Doc" Wyatt, Kevin Burke, Delilah S. Dawson
1:00 – 2:00 My Little Pony – Sara Richard
2:00 – 3:00 Goosebumps – Jeremy Lambert
IDW PANELS
IDW Portfolio Review, Friday, 3/29/19, 5:15p.m. - 6:15p.m., Room: 206B
Editor - Elizabeth Brei

IDW Publishing: 20th Anniversary Celebration!, Friday, 3/29/19, 2:00p.m. - 3:00p.m., Room: 209
IDW turns 20 this year—but we're bringing the presents to you! Get the low-down on the run-up to Teenage Mutant Ninja Turtles #100, find out what's next for Sonic the Hedgehog, and brace yourself for surprises and thrills! Hosted by IDW Editor-In-Chief John Barber, and featuring a bevy of exciting creators!

Star Trek: Inside The Writer's Room, Friday, 3/29/19, 4:00p.m. - 5:00p.m., Room: 211
Step inside the IDW Publishing Writer's Room for the upcoming Star Trek: Year Five series! Join series writers Jackson Lanzing, Collin Kelly, Jody Houser, Brandon Easton, and Jim McCann as they discuss the process of collaborating on a new "season" of Star Trek and the challenges and responsibilities of working with such a legendary property.

IDW Portfolio Review, Saturday, 3/30/19, 3:15p.m. - 4:15p.m., Room: 206B
Editor - Chase Marotz

Hasbro & IDW Present: The Transformers Panel!, Saturday, 3/30/19, 11:30a.m. - 12:30p.m., Room: 208
Transformers comics are reborn in the all-new Transformers series—and Transformers hall-of-famer John Barber and editor David Mariotte are here to introduce you to this bold new era—and to celebrate 35 years of our favorite Cybertronians with surprise guests from the past, present, and future of Transformers!

IDW Presents: Foreign Imports, Saturday, 3/30/19, 5:30p.m. - 6:30p.m., Room: 208
Join They Called Us Enemy co-author Justin Eisinger, IDW Editorial Director, Graphic Novels and Collections, and Special Guests for an in-depth conversation on upcoming titles such as Burmese Moons (Sophie Ansel) and After the Spring (Hélène Aldeguer) — and the true-to-life events that make their stories so important.

IDW Presents: Hey, Kids! Comics!, Sunday, 3/31/19, 10:00a.m. - 11:00a.m., Room: 211
Join IDW, the publisher behind Teenage Mutant Ninja Turtles, My Little Pony, Star Wars Adventures, Sonic the Hedgehog, Marvel Action: Spider-Man, and more, as their editors and an all-star team creators show you how all-ages comics are created! Get in on interactive activities, secret surprises, and a whole lot of fun! You won't want to miss this. Plus, a free comic for every kid!

IDW Presents: Artist's Editions & More!, Sunday, 3/31/19, 2:00p.m. - 3:00p.m., Room: 211
IDW Director of Special Projects Scott Dunbier takes you on a guided tour of Artist's Editions and more! Find out the latest (no jokes, please!) news on the most lauded (and imitated!) formats in comics, as well as other exciting new projects. Joining Scott will be Mr. Full Bleed himself, Dirk Wood… and maybe even another surprise guest or two…
IDW CONVENTION EXCLUSIVES
G.I. Joe: A Real American Hero Yearbook Variant Edition
Illustrated by Gabrielle Dell'Otto
$10.00 each, limited to 400 copies

G.I. Joe: A Real American Hero Yearbook Variant 2-Pack
Includes Variant Edition & Rare Virgin Variant Edition
Illustrated by Gabrielle Dell'Otto
$40.00 each, limited to 100 sets

GLOW #1 Variant Photo Edition
$10.00 each, limited to 250 copies

Magic: The Gathering - Chandra #1 IDW Limited Variant
Illustrated by Tyler Kirkham
$20.00 each, limited to 400 copies

My Little Pony #75 Variant Edition
Illustrated by Andy Price
$10.00 each, limited to 250 copies

Rick and Morty vs. Dungeons & Dragons Convention Exclusive Hardcover
Illustrated by Alex Cormack
$40.00 each, limited to 500 copies

TMNT: Shredder in Hell #1 Variant Edition
Illustrated by Rafael Albuquerque
$20.00 each, limited to a daily release of only 100 copies

Transformers (2019) #1 Variant Edition
Illustrated by E.J. Su
$10.00 each, limited to 500 copies