WonderCon is the other original Comic-Con even that has been slowly building momentum ever since it moved from San Francisco to Anahiem, and now has grown to include many new events and panels. This is year is somewhat exceptional in that there will be seven Transformers related panels covering the Transformers Cyberverse, New IDW Comic,Women in Entertainment, Voice Actors, and more panels. Read on to see the details for all of them below: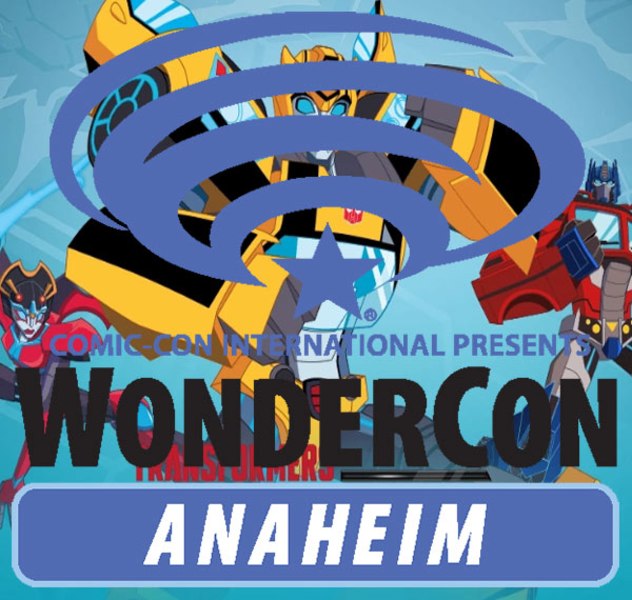 Friday, March 29
Transformers: Cyberverse, Going Cyber
5:00pm - 6:00pm
Room 300B

A behind the scenes look at writing Transformers: Cyberverse Season 1 from Cartoon Network and Hasbro Studios. The conversation will include the Cyberverse writing team: Gavin Hignight, Zac Atkinson, Mae Catt, Dan Salgarolo, story editor Randolph Heard and Hasbro Studios' Mikiel Houser and will be moderated by Jack Conway (Comic-Con Film School 101). The team will discuss the creation of Season 1 and give you a peak at what's to come in Season 2!
Saturday March 30, 2019
Welcome to the Golden Age of Dungeons & Dragons in Mass Media and Pop Culture
10:30am - 11:30am
North 200B

Once eliciting whispers of demon worship and dark magic, Dungeons & Dragons (D&D) has cemented its place in modern American pop culture. From references in New York Times bestselling novels like Ready Player One by Ernest Cline, to television episodes like "Monsters and Mana" on Voltron, or entire TV series (Stranger Things), the resurgence of D&D's popularity comes as no surprise to these panelists. Jose Molina (writer: Law & Order: Special Victims Unit (1999)), Robert Hewitt Wolfe (writer: Andromeda, Elementary), Satine Phoenix (community manager of Wizards of the Coast: Dungeons & Dragons), Mitch Iverson (writer: Voltron series), Tom DeSanto (X-Men, Transformers), and Andru Davies (BAFTA-nominated producer, The Party's Just Beginning) will discuss the resurgence of D&D's popularity and how the game has influenced their careers. Moderated by Anastasia Hunter.


Hasbro and IDW Present: The Transformers Panel!
11:30am - 12:30pm
Room 208

Transformers comics are reborn in the all-new Transformers series-and Transformers hall-of-famer John Barber and editor David Mariotte are here to introduce you to this bold new era and to celebrate 35 years of our favorite Cybertronians with surprise panelists from the past, present, and future of Transformers!


Entertainment Is Female: A Conversation with Hollywood Executives
3:00pm - 4:00pm
Room 209

From the production companies that brought you Transformers, Deadpool, LEGO movies, The Walking Dead, Mouse Guard, and Mission Impossible, women executives discuss how they are pushing for female representation in Hollywood while adapting comics and games to the big screen. Jeannette Francis (Bad Robot), Mette Norkjaer (BOOM! Studios), Nikki Baida (Genre Films), Grey Cusack (Hasbro/Allspark Pictures), Aubrey Davis Lee (Lord Miller), and Sam Crawley (Skybound) will partake in a Q&A.


Cartoon Voices
5:30pm - 6:30pm
North 200B

Once again, your moderator Mark Evanier brings together a team of experts in the art of speaking for animated characters, interviews them, and has them demonstrate what they do. The panel this time includes Jon Bailey (Transformers: Combiner Wars, Bumblebee), Phil LaMarr (Futurama, Samurai Jack), Alicyn Packard (Tom & Jerry, Poppy Cat), Rachel Butera (The Adventures of Rocky and Bullwinkle, Teenage Mutant Ninja Turtles), Jim Meskimen (Avengers Assemble, Teenage Mutant Ninja Turtles), and maybe a surprise or two.


Making a Living by Being Creative
6:00pm - 7:00pm
Room 207

Director Ruolin Li (Dreamworks), voice actor Jon Bailey (Transformers, Honest Trailers), writer/executive producer Brendan Hay (Harvey Street Kids, Robot Chicken), writer/executive producer Dan Hageman (Trollhunters, Ninjago), and freelance artist Lee Kohse (Star Wars, Aliens, Voltron) discuss the business of being creative. With so many aspects of being creative to cover, this year's panel will focus on animation. How to get an idea from your head to the screen. Coming up with designs and writing the script, to casting the voices and ways to get it animated. Our experienced panelists will also answer your questions on all aspects of being creative. A must-see for anyone wanting to make a living by being creative. Moderated by Johnny Kolasinski (podcaster and former arts marketer).


The Writer's Journey: Developing and Maintaining a Career in Hollywood
7:00pm - 8:00pm
Room 207

This panel addresses what a new writer needs to do once they have material ready to go out to the masses. The shifting 21st century digital frontier means the age-old methods of building a career have been rendered irrelevant and this group of Hollywood screenwriters and graphic novel creators share insider information, publishing secrets, and the professional realities on how to develop your ideas into a viable property and market yourself accordingly. Moderated by 2015 Disney/ABC Writing Program winner and 2014 Eisner Award nominee Brandon Easton (Transformers: War for Cybertron, Marvel's Agent Carter), the panel includes producer Geoffrey Thorne (Black Panther's Quest, The Librarians), artist/writer Tony Puryear (Queen of the South, the Schwarzenegger film Eraser), writer Ubah Mohammed (DC's Legends of Tomorrow, Gang Related), and writer Brandon Thomas (Catalyst Prime: Noble, Skybound's Horizon).